Blondie Is A Group!
So said the buttons Blondie's members wore to distinguish the band's name from lead singer, Debbie Harry.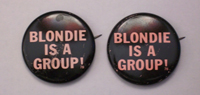 Debbie Harry ripped the stereotype of Blonde Bombshell to shreds.
Platinum starlets from 20 years earlier, like Marilyn Monroe and Jaine Mansfield, were portrayed as ditzy and air headed and innocently hyper-sexual.


Debbie Harry was one of a handful of women fronting bands during the punk revolution. Although considered more of a pop band than punk, Blondie managed to create an iconic sound and look that is still relevant forty years later.
Harry has admitted that most of her status as a punk era icon is based on her looks and style. While that may seem true, none of that would have mattered without the attitude.
Women were just coming to terms with their power outside the domestic arena in the 1970's. Suddenly, here was a beautiful, sexy blonde who took the lead position in a group of men and yet did not dress or act in a masculine manner.
She did not play dumb and she was not a play thing or an object. She somehow managed to be the hot blonde in a boys' club and still be one of the boys.
Many people say Blondie shouldn't be considered a Punk band because they played Pop music. Here's what the band members have to say about that:
With Blondie's 40th Anniversary upon us, lots of articles and videos are available. Here are a few:
Also, Blondie co-founder and guitarist, Chris Stein, has come out with a book of photos of Debbie Harry and the punk scene during the 1970's and 80's. It looks amazing.

Debbie Harry is an amazing style icon. She redefined feminine tough girl chic.
Check out the Lux Punk Pinterest board for more Blondie photos and a full video biography.
Stay tuned for next week's post when we explore the oft neglected…Men of Blondie!!
Also, be the first to find out about new promotions, blog posts and other Lux Punk news. Thanks!